Sevottam is an assessment - improvement model that has been developed with the objective of improving the quality of public service delivery in the country. The model was conceived by the Department of Administrative Reforms & Public Grievances (DARPG), Ministry of Personnel, Public Grievances and Pensions in 2006.
The word "Sevottam" is a combination of two Hindi words: Seva (Service) and Uttam (Excellent). It means "Service Excellence", emphasizing the idea of "Service". It symbolizes the change in mindset within the Government, from administration and control to service and enablement.
Objectives
The key components of Sevottam are captured with the following objectives:
Successful implementation of Citizen's Charters : It requires opening up a channel for receiving citizens' inputs into the way in which organizations determine service delivery requirements. Citizens' Charter publicly declare the information on citizens' entitlements; making citizens better informed and hence empowering them to demand better services.
Service Delivery Preparedness and achievement of Results : An organization can have an excellent performance in service delivery only if it is managing the key inputs for good service delivery well, and building its own capacity to continuously improve delivery. This shall include identification of services rendered, the service delivery process, its control and delivery requirements.
Sound Public Grievance Redress Mechanism : This requires a good grievance redress system operating in a manner that leaves the citizen more satisfied with how the organization responds to complaints/grievances, irrespective of the final decision.
Benefits of the Sevottam model
The framework enables implementing organizations to undertake a systematic, credible and authenticated self-assessment (or 'gap analysis') for citizen-centric service delivery. Using this analysis, practical solutions are gradually and systematically incorporated into the organization's day-to-day routine thereby ensuring sustainable results.
There are four broad ways in which the Sevottam model can be used:
As a self - assessment tool by organizations already motivated to improve service delivery
As a requirement standard
As a benchmark assessment process to be established
As a rating model to recognize and reward organizations that are doing commendable work in service delivery
Implementation of Sevottam
Initially, Sevottam framework was undertaken from April 2009 to June 2010 in ten Departments of the Government having large public interface. These are, Department of Post, CBEC, CBDT, Railways, Passport office, Pensions, Food Processing, Corporate Affairs, Kendriya Vidyalaya Schools and EPFO.
Later, Sevottam has been launched as a certification scheme which provides for the award of the Sevottam symbol of excellence to public service organizations that implement and are able to show compliance to a set of management system requirements that have been specified in a specially created standard document. This standard, known as IS 15700:2005, was developed by the Bureau of Indian Standards (BIS) based on the objectives of Sevottam. The standard takes into account unique conditions of service delivery by Public service organisations in India and the sectoral and regional variations in service delivery standards. It offers a systematic way to identify weaknesses in specific areas and rectify them through systemic changes and process reengineering. India is among the first countries in the world to have a Quality Standard for public service delivery.
Sevottam assessment process
In order to apply for Sevottam certification, an organization must initially undertake a self-assessment to ensure that it has complied with the requirements detailed in the IS 15700 standard. The standard specifies requirements to be met in terms of several dimensions including documentation requirements, management responsibilities, resource management, citizens' charter, service provision, complaint handling, monitoring, and continuous improvement. Once the required processes have been introduced, the organization can approach, if it so desires the certifying authority for assessment. If unsuccessful, the organization will have to re-assess its service standards and processes and repeat the above process to apply for certification. If successful, it will attain Sevottam certification, which will be valid for a period of three years, after which it has to renew the license after reassessment.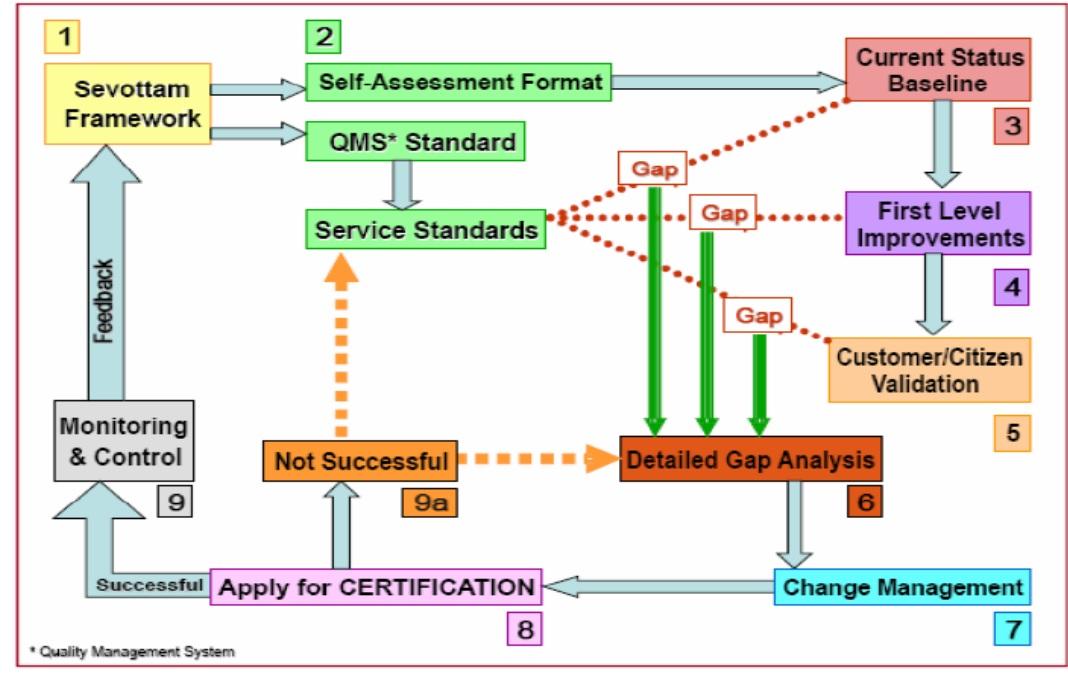 The framework has a total of 3 modules with 3 criteria and 11 elements in each. The first module is the Citizen"s Charter that specifies the standards for service delivery, the second is the Grievance Redress Mechanism to get redress if service is not provided as per standards, and the third is the Capability Building for building the capability and capacity of the organization to deliver its services as per standards included in its Charter.
Seven Steps Model for implementation of Sevottam

There are seven basic steps for implementation of Sevottam. These are as under:-
Define your services and identify your clients
Set standards and norms for each service
Develop capability to meet the set standards
Perform to achieve the standards
Monitor performance against the set standards
Evaluate impact through an independent mechanism
Continuous improvement based on monitoring and evaluation
Quality Management Principles
The seven principles are
Customer focus
Leadership
Engagement of people
Process approach
Improvement
Evidence-based decision making
Relationship management
Source : DARPG